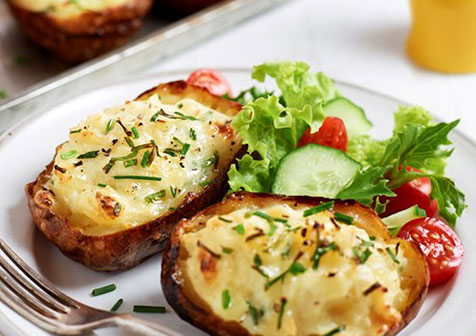 Twice Baked Sour Cream and Chive Jacket Potatoes
Ingredients:
4 medium Fluffy potatoes (approx 350g)
1 tsp olive oil
100ml sour cream
2 tbsp semi-skimmed milk
3 tbsp chives, finely chopped
Green salad, to serve
Typical varieties:
Maris Piper or King Edward
Method:
Heat oven to 220°C/200°C fan-assisted/Gas Mark 7. Prick the potatoes with a fork, place on a plate and microwave on high (900W) for 6 minutes. Turn the potatoes over and microwave for a further 4 minutes. Transfer the potatoes to a baking sheet and brush with the oil.
Season and place on the top shelf of the oven for 20-25 minutes until the skin is crisp and the flesh is soft. Reduce the temperature to 200°C/180°C fan-assisted/Gas Mark 6 if the potato browns too quickly.
Remove the potatoes from the oven. Halve and scoop out most of the flesh. Roughly mash the flesh in a bowl with the sour cream, milk and 2 tbsp chives. Season and spoon back into the potato skins.
Return to the oven and bake for a further 15 minutes until golden.
Scatter with the remaining chives to serve.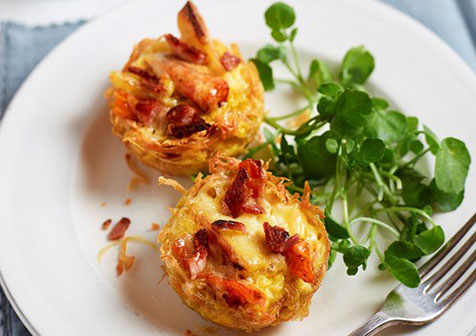 Healthy Potato Cup Frittata Recipe
Ingredients:
750g fluffy potatoes, peeled and grated
2 tbsp plain flour
1 tbsp sunflower oil
6 large eggs, lightly beaten
150g leftover roast veggies, such as carrot & parsnip, roughly chopped
50g full fat hard cheese eg mature Cheddar cheese
2 rashers cooked unsmoked bacon, fat removed
Typical varieties:
Maris Piper
Method:
Heat the oven to 180°C/160°C fan-assisted/Gas Mark 4. Squeeze out the excess water from the potatoes and toss with the flour until coated.
Brush a 12-hole cupcake tin with the oil and divide the grated potato amongst the cups. Use a spoon to press into the base and up the sides to form cups. Bake for 20 minutes until lightly golden.
Place the eggs, chopped leftover roast veggies and cheese together in a bowl. Season and stir to combine. Spoon into the cases.
Break the bacon up into small pieces and scatter over the potato cups. Transfer to the oven for bake for 15 minutes until golden and set.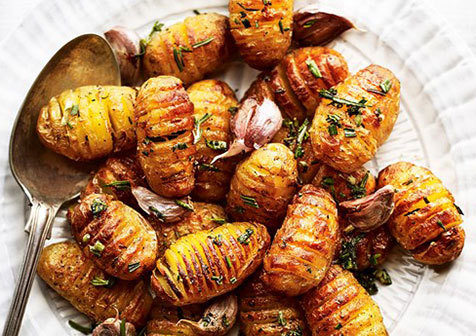 Mini Hasselback Potatoes with Rosemary and Garlic
Ingredients:
500g salad/new potatoes
4 sprigs of rosemary
1 garlic bulb
1tbsp olive oil
1tsp sea salt flakes
Fresh milled pepper
Method:
Pre-heat your oven to 190°C /Gas Mark 4
Place the potatoes into a pan of boiling water and cook for about 5 minutes, drain and cool.
Now insert a skewer through the middle of the potato. Using a small knife make little cuts through the potato until you hit the skewer.
Place the potatoes into a small roasting dish, scatter over the rosemary, break the garlic up and scatter over the potatoes, season with the sea salt and milled pepper and finally drizzle over the olive oil and cook until crisp and golden. About 30 minutes.
Great served with all meats, salads or simply on their own.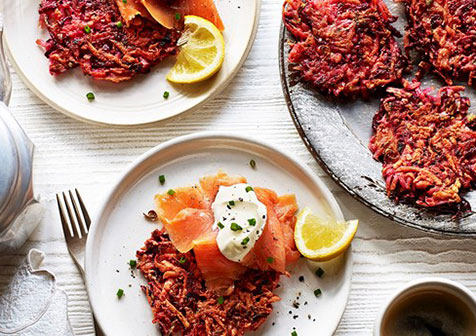 Potato and Beetroot Latkes
Ingredients:
300g smooth potatoes, peeled
2 spring onions
1 large beetroot, peeled
1 medium eggs
50g plain flour
2tbsp groundnut oil for frying
400g smoked salmon
4 large teaspoons crème fraiche
Snipped fresh chives
Typical varieties:
Desiree
Method:
Turn your oven to 150°C/Gas Mark 2.
In a large mixing bowl, beat your eggs, then stir in the flour. Grate the potatoes and squeeze out excess water. Add this to the egg and flour along with grated beetroot and chopped spring onions. Season with salt and pepper and mix well.
Place a large frying pan over a medium-hot heat and add the groundnut oil. When hot, add a heaped tablespoon of the mixture to the pan, flatten slightly so they are about 2cm thick and cook until crisp (about 3-4 minutes) flip over and cook on the other side until crisp. Pop into the oven to keep warm whilst you prepare the second batch.
When you have made 8 you are ready to serve. Top the latkes with smoked salmon and finish with a little crème fraiche, chopped chives and fresh pepper.
Tip:
Alternatives to beetroot that also work really well are: swede, courgette, mouli, parsnip or squash.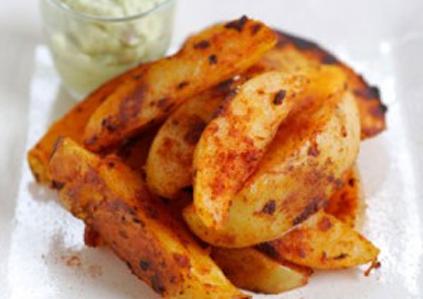 Chilli Tomato Wedges & Dip
Ingredients:
4 medium size smooth potatoes (such as Desiree)
olive oil
4 tbsp tomato puree
1 tbsp water
1/2 tsp chilli powder
freshly ground black pepper
Pot salsa/sour cream/guacamole
Typical varieties: Desiree
Prep time: 10 mins
Cook in: 40 mins
Serves: 4
Method:
Scrub the potatoes, then cut each into half lengthways, and then in half lengthways again. Repeat until you have 8 even-shaped wedges. Boil wedges in a saucepan of water with the lid on for 15 minutes.
Mix together 4 tsps oil, tomato puree, water, chilli powder and black pepper, and toss the wedges in it.
Bake in oven for 15-20 minutes, until crispy on the outside and soft in the middle.
Serve with salsa, sour cream and guacamole to dip.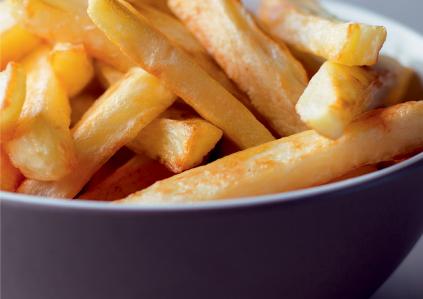 Oven Chips Homemade Style
Ingredients:
700g /1 1/2 lb fluffy potatoes
Olive oil
Typical varieties: King Edward Maris Piper
Prep time: 5 mins
Cook in: 35 mins
Serves: 4
Method:
Pre heat oven to 200°C/Gas Mark 6.
Cut the unpeeled potatoes into 1cm thick chip wedges
Wash and dry well on kitchen paper.
Place on a non-stick baking tray and drizzle with olive oil, season to taste.
Bake for 35 mins, turning halfway through cooking.
Tip:
Spice up your chips by adding cayenne pepper when you season.
Recipes courtesy of www.lovepotatoes.co.uk