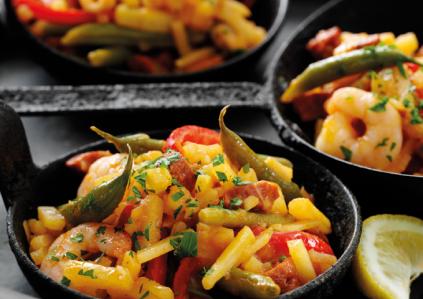 Potato Paella – 'Potella'
Ingredients:
4 Medium Smooth potatoes, cut into small 1-2cm strips/pieces
1 Onion, chopped
1 Clove garlic, crushed
75g Chorizo sausage, roughly cubed
½ Red pepper, deseeded and cut into strips
50g Green beans, cut in half
300ml Chicken stock
1tsp Smoked paprika Seasoning
200g Frozen mixed cooked seafood e.g. prawns, mussels & squid , defrosted Fresh parsley, chopped
Prep time: 10 mins
Cook in: 10 mins
Serves: 4
Method:
Add onion, garlic and chorizo to a large non-stick frying pan or saucepan. Cook for 2-3 minutes.
Add the potatoes, pepper, beans, stock, paprika and seasoning, bring to the boil and then lower the heat to a simmer.
Cook for about 8 minutes with lid on until the potatoes are just tender. Add the seafood, stir through and allow to warm for 2-3 minutes. Scatter with parsley and serve.
Don't forget you can make a veggie version of this by replacing the chorizo with vegetarian sausages and adding more paprika as chorizo is naturally very spicy. And exchange the chicken stock for vegetable stock too.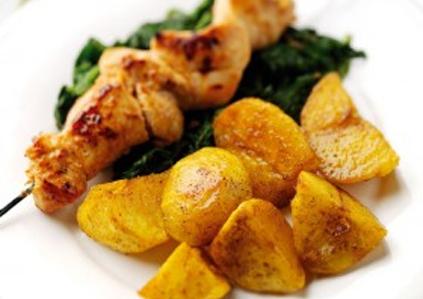 Indian Potatoes with Tandoori Chicken
Ingredients:
1 tsp cayenne pepper
50g natural yogurt
2 cloves garlic, chopped
1 tsp freshly grated ginger
4 chicken breasts, each cut into 6 pieces
800g fluffy potatoes such as Maris Piper, cut into 4
1 tsp turmeric
2 tsp Garam Masala
Typical varieties: King Edward Maris Piper
Prep time: 10 mins
Cook in: 20-25 mins
Serves: 4
Method:
Preheat the oven to 200C, gas mark 6.
Heat 2 tbsp oil in a small frying pan or microwave and stir in the cayenne, allow to cool. Whisk into the yogurt and stir in the garlic and ginger. Stir in the chicken and marinate for 10 minutes. Thread onto 4 skewers.
Place the potatoes on a large baking tray and toss in 2 tbsp oil, turmeric and seasoning. Place the kebabs on another tray and bake both trays for 20-25 minutes, turning once half way through. Sprinkle the Garam Masala over the potatoes a few minutes before the end of cooking time.
Place the kebabs under a preheated grill and cook for 5-6 minutes to finish.
Sanjay's tip: "For the best result, marinade the chicken for at least 6 hours and serve with wilted spinach. Fry 1 tsp cumin seeds and 1 crushed clove of garlic in 1 tbsp oil, add 500g spinach and fry until wilted"
Make your own garam masala… take 1 tsp of green coriander, 1 tsp of fennel seeds, ½ tsp coriander seeds and ½ tsp cumin seeds, blitz in a coffee grinder and store in a glass jar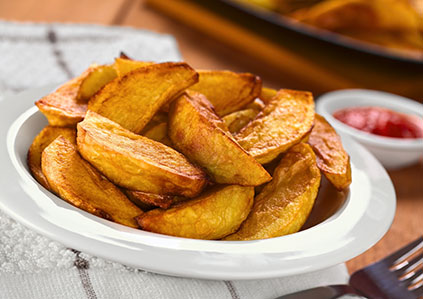 Spicy Indian Potato Wedges with Spinach
Ingredients:
4 medium size fluffy potatoes (175g-225g/6-8oz each)
ground cumin
ground turmeric
ground coriander
olive oil
400g baby spinach leaves/1 large bag
(optional) mango chutney for dipping
Typical varieties: King Edward Maris Piper
Prep time: 10 mins
Cook in: 45 mins
Serves: 4
Method:
Scrub the potatoes, then cut each into half lengthways, and then in half lengthways again. Repeat until you have 8 even-shaped wedges. Rinse and pat dry.
Place wedges in bowl with 4 tsp olive oil, 2 tsp cumin, 1 tsp turmeric and 1 tsp ground coriander. Stir until coated. Transfer to baking sheet and bake until tender, about 45 minutes.
When the potatoes have cooked for about 30 minutes, heat the water you need to steam the spinach.
The spinach will only take 5 minutes to steam. When it is completely wilted, serve with the wedges and mango chutney for dipping.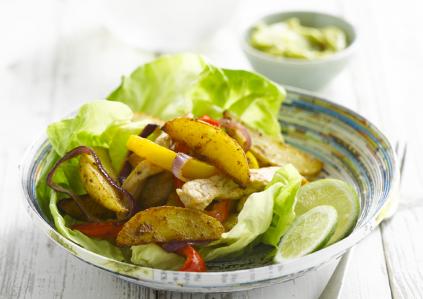 Fajita Potato Wedges with Chicken
Ingredients:
4 medium Smooth potatoes such as Desiree
3 tbsp olive oil
4 chicken breasts cut into chunky strips
2 peppers deseeded and cut into chunky strips
1 onion peeled and thickly sliced
2 tbsp fajita seasoning
8 large lettuce leaves
Guacamole or tomato salsa to serve
Typical varieties: Desiree
Prep time: 5 mins
Cook in: 25 mins
Serves: 4
Method:
Pre-heat oven to 200°C/400°F/Gas Mark 6.
Place the potatoes, half of the oil and half of the seasoning into one sandwich bag and shake to ensure the potatoes are evenly coated with seasoning.
Spread the ingredients out into single layer on on baking tray.
Repeat with the chicken, peppers, onions and the other halves of the oil and seasoning.
Place potato tray in oven and cook for about 25 minutes until tender and golden. After 10 minutes add the chicken and vegetable tray and cook for the remaining 15 minutes.
Take lettuce leaves and place a large spoonful of the baked mixture into the centre, add a dollop of guacamole or salsa. Scrunch, fold or roll up and eat!
Recipes courtesy of www.lovepotatoes.co.uk