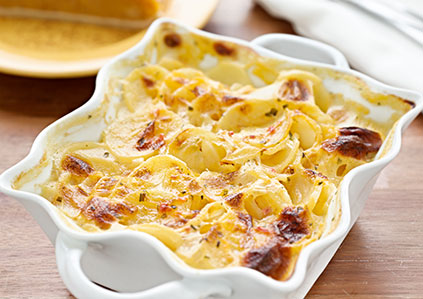 Potato Gratin
Ingredients:
675g Potatoes, well scrubbed
2 Tomatoes
125g Cheddar cheese, grated
Salt and freshly ground black pepper
150ml (¼pt) Single Cream
Typical varieties: Desiree
Prep time: 20 mins
Cook in: 1 hour
Serves: 4
Method:
Lightly grease an ovenproof dish.
Very thinly slice the potatoes then cover the base of the dish with a layer of slices.
Make alternate layers of potato, tomato and cheese seasoning with salt and pepper. Reserve approximately 25 g (1 oz) of cheese for the top. Finish with a layer of potatoes.
Pour over the cream and top with the reserved cheese.
Cook for 1-1½ hours or until the potatoes are tender and the top is golden brown – if the top is brown before the potatoes are cooked cover with foil and continue cooking.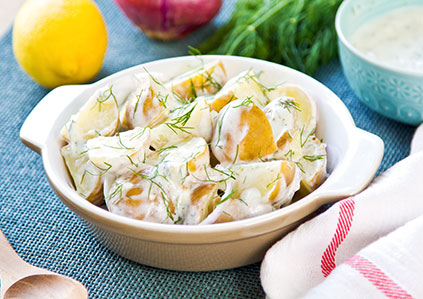 Creamy New Potato Salad
Ingredients:
500g salad potatoes, scrubbed and halved
1 tbsp half fat creme fraiche
1 tbsp low fat mayonnaise
1 red onion, finely chopped
1 tsp lemon juice
2 tbsp freshly chopped chives
Salt and pepper, to taste
Typical varieties: Charlotte Maris Peer
Prep time: 5 mins
Cook in: 15 mins
Serves: 4
Method:
Place the new potatoes in a pan of lightly salted boiling water. Cover and simmer for 15 minutes or until tender then drain and allow to cool.
In a bowl mix together the remaining ingredients and carefully stir in the potatoes.
Season to taste.
Tip
Great for barbecues and parties, simply scale up the recipe by 3 to serve 12.
Why not serve with a selection of ready prepared potato products such as wedges or crisps.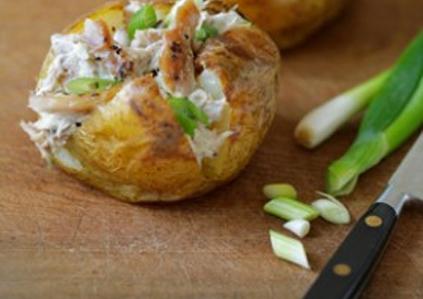 Jacket Potato with Smoked Mackerel and Spring Onion
Ingredients:
4 medium size fluffy potatoes (Estima or Marfona are ideal)
300g Ready-to-Eat peppered smoked mackerel fillets
4 spring onions, finely sliced
4 tbsp half-fat creme fraiche
watercress/rocket (optional)
1 lemon (optional)
Typical varieties: King Edward Maris Piper
Prep time: 5 mins
Cook in: 25 mins
Serves: 4
Method:
Scrub the potatoes, then dry and prick each one several times with a sharp knife.
Microwave Method:
Cook one potato (225g/8oz) for 6 minutes on full power (800W), turn half way through cooking. Allow to stand for 2 minutes before serving. If cooking more than one potato at a time you need to increase the cooking time accordingly.
Oven Method:
Rub a few drops of olive oil into the potato skin, place the potatoes in a pre-heated oven at 200°C/400°F/Gas Mark 6 on a baking tray with salt sprinkled around the potato. Bake for 1¼ hours or until soft.
When the potato is almost ready, in a bowl mix together the mackerel fillets, discarding the skin, with the spring onions and creme fraiche and serve on the jacket.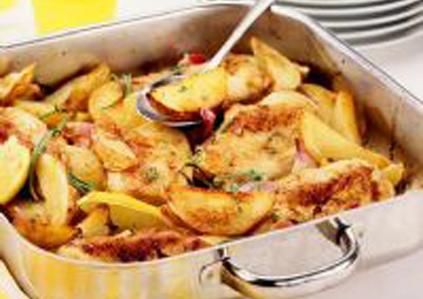 Lemon Roast Chicken Potato Wedges
Ingredients:
6 boneless chicken breasts, with skins
1 small red onion, cut into 8 wedges
500g fluffy potatoes e.g. King Edward, scrubbed and cut into wedges
1 large lemon
6 cloves garlic
2 tsp clear honey
1½ tbsp olive oil
Salt and pepper
1 tsp fresh thyme
6 sprigs fresh rosemary
Typical varieties: King Edward Maris Piper
Prep time: 15 mins
Cook in: 1 hour
Serves: 6
Method:
Using a non-stick frying pan, dry fry the chicken breasts, skin side down for 2-3 minutes until browned. Place in a large roasting tin with the onion and potato wedges.
Remove the zest from the lemon and cut in half. Cut one half into wedges and add to the pan with 4 whole cloves of garlic. Squeeze the juice from the other half of lemon and mix with the zest, honey, oil and remaining crushed garlic. Pour over the chicken, season well and add the herbs.
Bake for 1 hour or until the potato wedges are tender and the chicken is cooked throughout. Serve immediately from the roasting tin.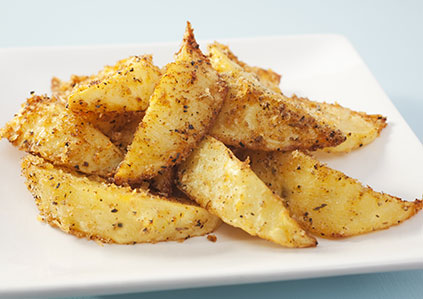 Cajun Spiced Chips
Ingredients:
400g fluffy potatoes such as Maris Piper, King Edward
1 tbsp vegetable oil
2 tsp Cajun Seasoning
Typical varieties: King Edward Maris Piper
Prep time: 5 mins
Cook in: 35 mins
Serves: 4
Method:
Preheat the oven to 200°C/Gas Mark 6
Cut the potatoes with the skins on into 1cm slices and then into chips. Place in a large bowl or plastic bag and add the oil, toss to coat. Sprinkle on the seasoning and toss to evenly coat.
Transfer to a non stick baking tray and bake for 30-35 minutes or until golden and crispy.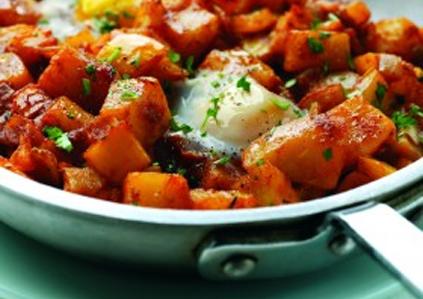 Spicy Mexican Potatoes and Eggs
Ingredients:
400g medium smooth potatoes, diced
1 tbsp oil
1 yellow pepper, diced
1 onion, chopped
½ x 30g pack fajita seasoning mix
2 medium eggs
Typical varieties: Desiree
Prep time: 10 mins
Cook in: 15 mins
Serves: 2
Method:
Boil the potatoes for approx 8 minutes until tender, drain.
Meanwhile, heat the oil in a frying pan and fry pepper and onion for 3-4 minutes. Add the fajita seasoning with 4 tbsp water. Stir in the potatoes and fry for 1 minute.
Transfer to a heatproof serving dish, make 2 hollows in the mixture and crack in the eggs. Place under a grill for 2-3 minutes. Serve immediately.
Recipes courtesy of www.lovepotatoes.co.uk