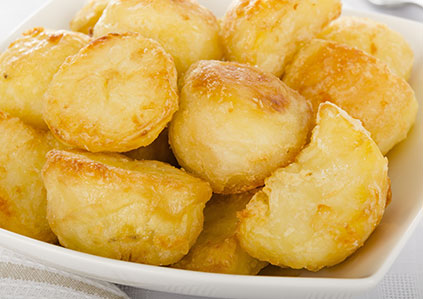 Roast Potatoes
Ingredients:
175g fluffy potatoes (such as Maris Piper) per person
Typical varieties: King Edward Maris Piper
Prep time: 10 mins
Cook in: 40 mins
Serves: 175g (6oz) Potatoes per person
Method:
Add the potatoes to cold water and bring to the boil. Don't leave the potatoes in the water for more than 10 minutes in total.
Drain them and coat in the oil or fat of your choice. Use 15ml (1 tblspn) /25g (1oz) fat for each 450g (1lb) of potatoes.
Roast in an oven preheated to 200°C/425°F/Gas mark 6 for approximately 45 minutes, turning twice.
Serve immediately.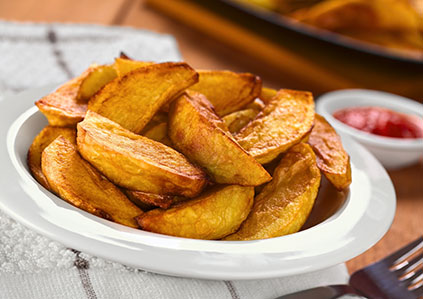 Potato Wedges Homemade Style
Ingredients:
One 175g-225g (6-8oz) Smooth potato per person
Prep time: 5 mins
Cook in: 10 mins
Serves: One 175g-225g (6-8oz) potato per person
Method:
Potato wedges that are quick and easy to make thanks to this microwave method for wedges.
Scrub the potatoes, then cut each into half lengthways, and then in half lengthways again. Repeat until you have 8 even-shaped wedges. Heat in the microwave at its highest heat level for 10 minutes.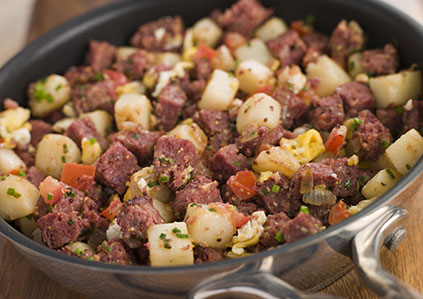 Corned Beef Hash
Ingredients:
675g smooth potatoes e.g. Desiree, cubed
2 tbsp sunflower oil
1 onion, chopped
340g tin corned beef, diced
195g tin sweetcorn, drained
Salt and pepper
2 tsp Worcestershire sauce
Typical varieties: Desiree
Prep time: 10 mins
Cook in: 35 mins
Serves: 4
Method:
Place the potatoes in a pan, cover with boiling water, add a little salt, cover and simmer for 10-15 minutes or until just cooked. Drain.
Heat the oil in a large frying pan and sauté the potatoes for 10 minutes until golden. Add the onion and fry for 5 minutes.
Stir in the corned beef, sweetcorn, seasoning and Worcestershire sauce and return to the heat for 10 minutes or until piping hot.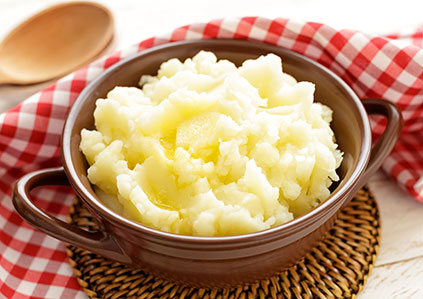 The Best Mashed Potatoes
Ingredients:
700g Smooth Potatoes
150ml Semi-skimmed or skimmed milk
Typical varieties: Desiree
Prep time: 5 mins
Cook in: 20 mins
Serves: 4
Method:
Wash and peel the potatoes and cut into small chunks for quicker cooking.
Place the potatoes in a saucepan with just enough water to cover them.
Bring to the boil, cover and simmer for 20 minutes or until the potatoes are tender.
Drain the potatoes. Meanwhile, bring the milk to the boil in a small saucepan.
Pour the warmed milk over the potatoes and mash until smooth.
Season to taste and serve immediately – great with bangers!
Tip:
You can add other ingredients such as garlic or mustard for extra taste to make a quick and tasty meal even tastier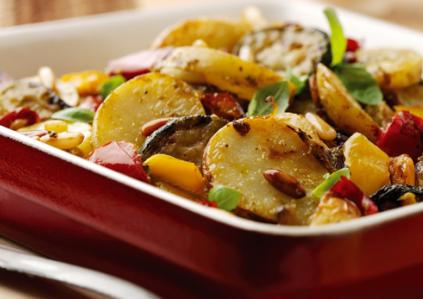 Mediterranean Potato and Vegetable Bake
Ingredients:
800g smooth potatoes (such as Desiree), thickly sliced
500g mixed Mediterranean vegetables, e.g. aubergines, courgettes and peppers, roughly chopped
50g pine nuts
1 tbsp oil
2 tbsp pesto
Typical varieties: Desiree
Prep time: 5 mins
Cook in: 25 mins
Serves: 4
Method:
Preheat the oven to 200°C/400°F/Gas Mark 6.
Place the potatoes, vegetables and pine nuts in a large roasting tin, add the oil and season. Bake for 20 minutes until tender.
Stir in the pesto and cook for a further 5 minutes. Serve immediately.
For a meaty alternative, thinly slice 400g pork or chicken breast and mix in with the vegetables and cook as above.
Tip:
Short of time? Swap the fresh vegetables for 750g of frozen Mediterranean vegetables.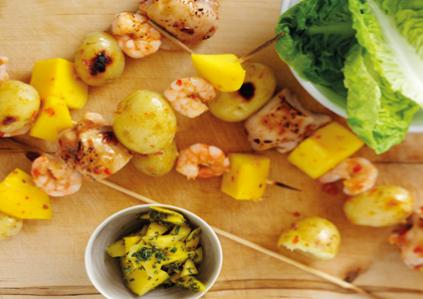 Chicken, Prawn and Mango Potato Kebabs
Ingredients:
500g small Salad potatoes, cooked
8 large raw prawns
4 boneless and skinless chicken thighs, cut in half
1 mango, peeled, cut into 4 large chunks, and the remaining fruit cut into small pieces for salsa
1 lime, juice and rind
2tbsp fresh mint, chopped
2tbsp sweet chilli sauce
Typical varieties: Charlotte Maris Peer
Prep time: 10 mins
Cook in: 10 mins
Serves: 4
Method:
Thread cooked potatoes, prawns, chicken and large mango pieces onto 4 large skewers. Brush with chilli sauce.
Place under a preheated grill or BBQ and cook for 5-6 minutes until prawns have changed colour and chicken is thoroughly cooked.
Meanwhile make Salsa: Mix together in a bowl the remaining pieces of mango, lime rind and juice, and mint. Toss well together and leave to stand.
Serve the kebabs with a spoonful of mango salsa and a large green salad.
Recipes courtesy of www.lovepotatoes.co.uk