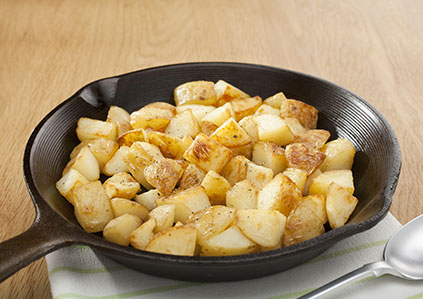 Saute Potatoes Made Easy
Ingredients:
600g small salad or smooth potatoes, cut in half
2 tbsp olive oil or butter
2 cloves of garlic, peeled
2 springs of rosemary, chopped
Typical varieties: Desiree
Prep time: 5 mins
Cook in: 15 mins
Serves: 2 – 4
Method:
Cook potatoes in a pan of boiling water for 4-5 minutes.
Drain the potatoes in a colander; they'll turn out crispier if you let them dry off.
Heat oil or butter in a non-stick pan, add your potatoes.
After a minute, add the 2 cloves of garlic to the pan. Stir and toss well as they cook.
When the potatoes are turning golden brown, add the rosemary and stir through.
When the potatoes are golden brown on all sides they're ready to enjoy!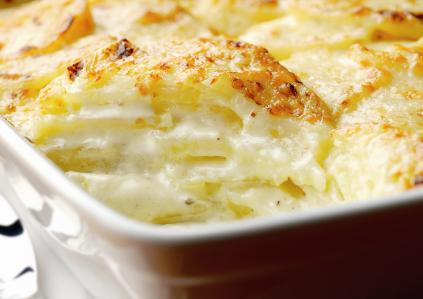 Potato Dauphinoise
Ingredients:
500g smooth potatoes, thinly sliced
200ml double cream
100ml milk
1 clove garlic, crushed
50g Gruyere cheese, grated
Typical varieties: Desiree
Prep time: 15 mins
Cook in: 25 mins
Serves: 4
Method:
Preheat the oven to 180°C/350°F/Gas Mark 4
Place the sliced potatoes in a bowl of cold water to prevent them from browning. Rinse then pat dry with kitchen paper.
Place the cream, milk and garlic in a large saucepan and bring to a gentle simmer. Add the potatoes, cover and simmer for 10 minutes until just tender. Season well.
Transfer to a buttered ovenproof dish and sprinkle over the cheese. Bake for 25 minutes until golden, and there you have it – the perfect Potatoes Dauphinoise.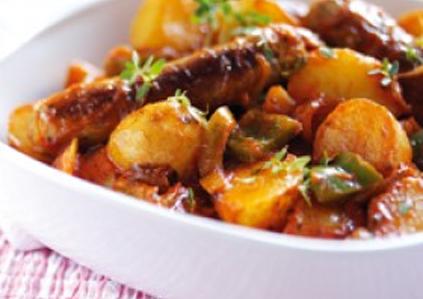 Sausage and Potato Casserole
Ingredients:
1 tbsp oil
500g Smooth potatoes, halved
454g pack sausages
1 onion, sliced
1 green pepper, diced
340g jar tomato pasta sauce
Typical varieties: Desiree
Prep time: 10 mins
Cook in: 15 mins
Serves: 4
Method:
Heat the oil in a large frying pan and fry the potatoes and sausages for 5 minutes.
Add the onion and pepper and cook for a further 5 minutes, turning the sausages occasionally until browned.
Add the pasta sauce to the pan with 1-2 tbsp of water, then cover and cook for 5 minutes before serving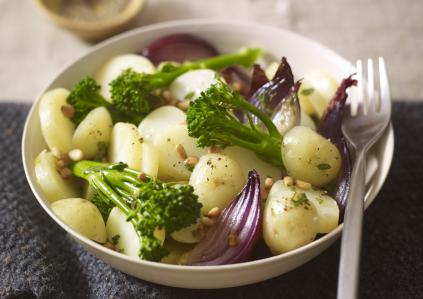 Potato and Vegetable Salad
Ingredients:
800g Salad potatoes cut into slices
300g long stemmed broccoli
1 red onion peeled and sliced
1tbsp olive oil
4 tbsp pine nuts
Seasoning
Typical varieties: Charlotte Maris Peer
Prep time: 5 mins
Cook in: 25 mins
Serves: 4
Method:
Pre-heat the oven to 200°C/400°F/Gas mark 6.
Add the salad potatoes, broccoli and red onion to a roasting tray.
Drizzle with the olive oil and place in an oven for 25 minutes.
Add the pine nuts during the last 5 minutes of cooking time.
Serve immediately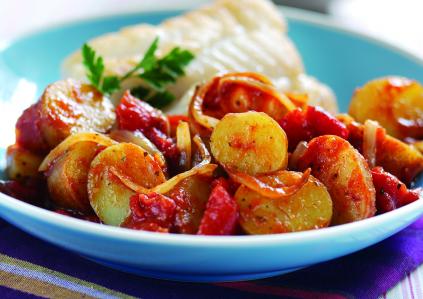 Bombay Potatoes Made Easy
Ingredients:
500g smooth potatoes halved
1 tbsp oil
1 large onion sliced
1 tbsp medium curry powder
400g tin chopped tomatoes
2 tbsp mango chutney
Typical varieties: Desiree
Prep time: 5 mins
Cook in: 20 – 25 mins
Serves: 4
Method:
Place the potatoes in a saucepan and cover with cold water. Bring to the boil and simmer for 15-20 minutes until tender. Drain.
Meanwhile, heat the oil in a frying pan and fry the onion for 3 minutes. Add the curry powder and fry for a further 2 minutes. Stir in the chopped tomatoes, mango chutney and potatoes and cook for 2-3 minutes.
Serve with white fish or chicken and a leaf salad.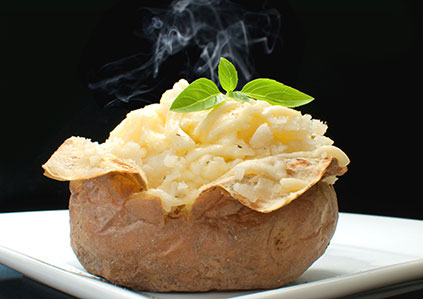 Jacket Potatoes
Ingredients:
Fluffy Potatoes
Low fat spread or butter
Typical varieties: King Edward Maris Piper
Prep time: 5 mins
Cook in: 1 hour 20 mins
Serves: 1x 225g (8oz) potato per person
Method:
Scrub your fluffy potatoes clean
Rub a tiny drop of oil into the skins and sprinkle salt around them on a baking tray (the salt draws out the moisture and makes them extra crispy!) or pat a bit on to the skins.
Put them in the oven. Check to see if they're cooked after an hour. A medium potato will be ready within an hour and a half.
When they are cooked, split them open and serve with a bit of butter
If cooking an ovenful of potatoes, increase the temperature to 220°C/425°F/Gas Mark 7. Use metal skewers or baking prongs pushed through the potatoes to reduce the cooking time by up to a quarter.
Recipes courtesy of www.lovepotatoes.co.uk